projects
Turning a loudspeaker into a drumhead
See how it works. Using a loudspeaker as input and output device at the same time.
Jour-Fixe at BVFT successful
We presented our ongoing research projects at BVFT (Berufsvereinigung Filmton e.V.) in Berlin. You can find a short report at the BVFT site: http://www.bvft.de/blog/?p=229 and a video on youtube.
MIDI Editor
For a couple of years innovations in MIDI editing stagnate so my friends and I came up with some new ideas and I began working on a MIDI-Editor. In this very first preview you can see how it could look like. We extract waveshape data for every single MIDI note and colorize each waveshape in relation to its perceived timbre. The first step was a proof of concept if we can make it to draw tens of hundreds of waveforms on the screen.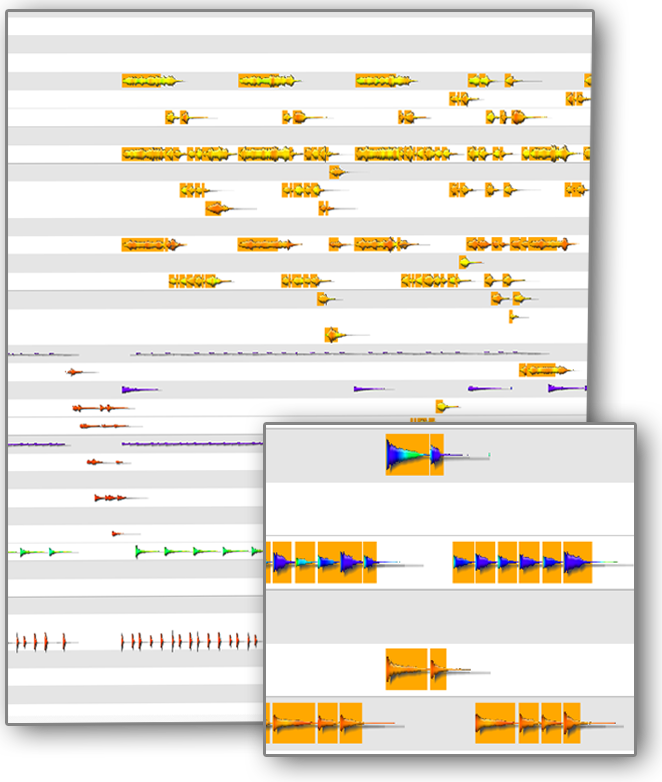 This picture shows how a common drumset would be coloured on a piano roll editor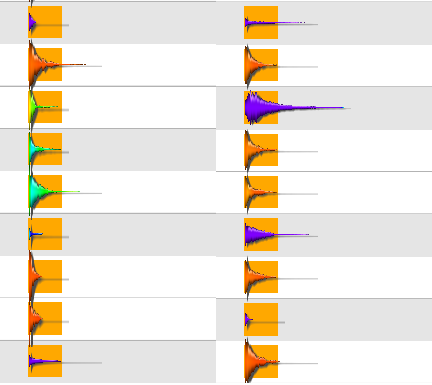 New Videos
We re-rendered most of the videos. See the latest Version of our VST-Optimizer Project and get an idea how we can improve simple reverberation effects.
Enhanced On-Screen-Faders
A work about controlling on-screen-faders with a mouse.
Latest video about the SonoSketch prototype:
126th AES 2009
Our work pays off: all proposals of our group have been accepted for the 126th AES convention in Munich.
Automatic Adjustment of Off-the-Shelf Reverberation Effects
Our tool provides a method to find the best setting of a common VST reverberation effect plugin to match a IR measurment of an specific place.
@see more details on Youtube


SonoSketch: Querying Sound Effect Databases through Painting
Searching for similar sounds is examined for several years. Normally one tries to measure the similariy of two sounds, be it using meta data or content analysis. But a sound designer in his daily work, who is searching for a given sound does not always have the search pattern. We tackle this problem.


Generic Sound Effects to Aid in Audio Retrieval
The tools sounddesigners and foley artists use to mimic other sounds brought us to the set of "atmic sounds", which is a compilation of basic sounds that can be used to synthesize, cluster and categorize sounds.
Virtual Faders
Intelligent analysis of the mouse movement can bring more accthe accuracy and accessibility to virtual faders in audio tools.
Article in Bremen4U
Local press reported about our last trip to the US. Get the article here >>.
SoundTorch - Quick browsing in large audio collections
Our latest project called SoundTorch provides fast browsing in audio effect collections.
See a detailed description at Google TechTalk: "Aurally and Visually Enhanced Audio Search" .